Contenuto del set Yu-Gi-Oh Blazing Vortex Booster:
50 Carte Comuni, 26 Carte Super Rare, 14 Carte Ultra Rare e 10 Carte Rare Segrete
Preparatevi a sfrecciare nel 2021 quando Yu-Gi-Oh Vortice Fiammeggiante colpirà lo Yu-Gi-Oh! GIOCO DI CARTE COLLEZIONABILI il 4 febbraio!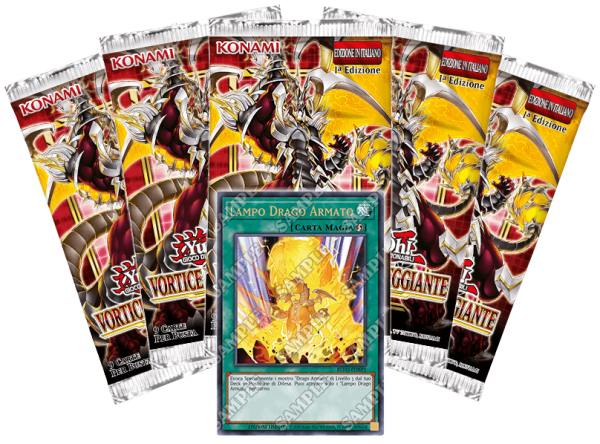 Sali di livello con 100 nuove carte da giocare e da collezionare, compresa una rivisitazione delle carte "Drago Armato" di Chazz Princeton della serie animata Yu-Gi-Oh! GX.
Giocatele da soli o combinatele con le carte originali "Drago Armato" per creare una nuova strategia che mira a scatenare una nuova versione di Drago Armato LV10 ed a farla crescere fino a 10000 ATK!
Rabbia Fantasma ha introdotto 17 nuove carte in prima anteprima mondiale, ma Yu-Gi-Oh Blazing Vortex Booster Box alza la posta in gioco con 19 carte in anteprima mondiale!
Yu-Gi-Oh Blazing Vortex Booster Box debutta con un nuovo tema di combattimento e rende le cose più piccanti con alcune carte in anteprima mondiale che fanno cambiare le regole di ingaggio, tra cui una nuova Carta Trappola Continua che costringe i Duellanti a fare a turno per giocare i loro effetti mostri.
Inoltre, è possibile trovare…
Carte che accendono alcuni dei temi introdotti in Assassini Segreti, Ascesa del Duellante, Rabbia Fantasma e Impatto Origini.
Nuove carte per i temi introdotti nel 2010, 2012, 2016, 2017 e 2019.
L'ultima versione di un'iconica carta incantatrice che tutti conoscono.
Una carta in anteprima mondiale che reinventa un'altra classica carta Magia.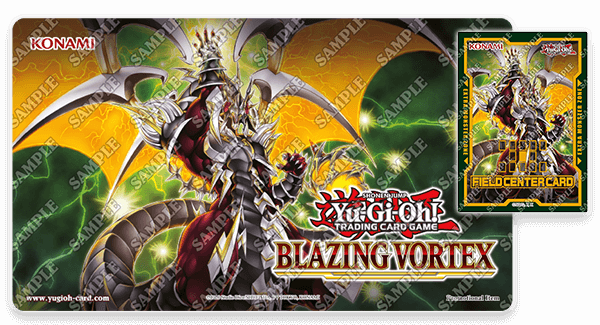 E molto altro ancora!
---
Get ready to Chazz it up in 2021 when Yu-Gi-Oh Blazing Vortex Booster Box  hits the Yu-Gi-Oh! TRADING CARD GAME on February 5th!
Level up your game with 100 new cards to play and collect including a reimagining of Chazz Princeton's "Armed Dragon" cards from the Yu-Gi-Oh! GX animated series.
Play them on their own or combine them with the original "Armed Dragon" cards to create a hard-hitting new strategy that aims to unleash a brand-new version of Armed Dragon LV10 and power it all the way up to 10000 ATK!
Phantom Rage introduced 17 new World Premiere cards, but Blazing Vortex ups the ante with 19 World Premiere cards!
Yu-Gi-Oh Blazing Vortex Booster Box both debuts a new combat-crazed World Premiere theme and spices things up with some World Premiere cards that turn the rules of engagement on their head, including a new Continuous Trap Card that forces Duelists to take turns playing their monster effects.
In addition, you can find…
Cards that power up some of the themes introduced in Secret Slayers, Rise of the Duelist, Phantom Rage, and Genesis Impact.
New cards for themes introduced in 2010, 2012, 2016, 2017, and 2019.
The latest version of an iconic Spell Card that everyone knows.
A World Premiere Card that reinvents another classic Spell Card.
And more!
The Yu-Gi-Oh Blazing Vortex Booster Box  set contains 100 new cards:
50 Commons
26 Super Rares
14 Ultra Rares
10 Secret Rares
fonte: Yu Gi Oh Card